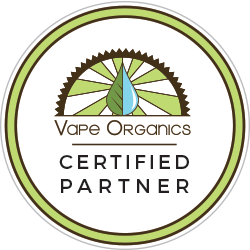 At Real Organic Vapors, we've spent years networking with the top e-liquid suppliers in the United States. We were one of the first retailers to see the value of organic, all-natural vape juice. We knew that vaping was a good alternative to smoking. But we saw right away that vaping with 100% certified organic e-liquid wouldn't just be a good alternative to smoking; it would be a great alternative.
So right off the bat, we paired up with Vape Organics. Vape Organics was the first company in the industry to innovate and create all-natural, USDA-Certified Organic vape juice. And they're not just one of the most recognized companies for creating organic e-liquids either. Vape Organics is an industry leader in organic vape juice.
Vape Organics – The Company Mission
The Vape Organics mission is simple. The company was founded to provide natural, organic liquids to the vape community. Their mission statement is as follows:
Vape Organics was founded to be the first company in the industry that would provide organic e-liquids for use in vaporizers and mods. Our goal is to sell superior e-liquids, liquids that are not only made from all-natural ingredients, but which are rendered in a facility that adheres to the most stringent of ethical, sustainable, and safe practices.

— Vape Organics
Vape Organics sets the bar in all-natural e-juice. We're happy to sell their products.
Going for the Gold with Certified Organic Products
The main feature that attracted our company to Vape Organics was their products. We were impressed with the other admirable traits and attributes of the company. Like the fact that they power their facility with solar panels. Or that they are fully OSHA-approved (Occupational Safety and Health Administration). But at the end of the day, no other company was producing e-liquid to the quality standards of Vape Organics. We tried their products and we were sold.
Vape Organics proudly bears the seal of "Certified Organic." That Vape Organics bears this seal is evidence that their products are manufactured at sites regularly inspected by Quality Assurance International. Quality Assurance International is an inspection committee of the United States Department of Agriculture (USDA). Vape Organics can sell Certified Organic vape juice thanks to extremely detailed manufacturing processes, all of which are carefully inspected by the QAI.
How We Go That Extra Mile
Thanks to our partnership with Vape Organics, Real Organic Vapors can go the extra mile in its attention to detail. We want our customers to see that we genuinely care about our products. We want to create a community of like-minded vape enthusiasts who care about the Earth, about sustainable living, about a conscientious approach to consumption, etc. We believe that ethically-sourced products further that mission. And that's why we work with Vape Organics; it's the little things like:
Selling vape liquid in glass, amber bottles. That prevents sun damage, oxygen contamination, and there is no chemical leaching as there would be in a plastic container.
Selling e-liquid with phenolic droppers in each bottle. That assures purity and long shelf life for your liquid.
Making sure all of the equipment used to make e-liquid is made of stainless steel or glass. That results in a contamination-free production environment.
Packaging products with recycled materials. No single-use plastics here!
Shipping out products with child-resistant caps. That helps prevent your young ones from getting into your e-liquid.
Vape Organics – Full-Disclosure Promise
Finally, thanks to our partnership with Vape Organics, we have an alternative to smoking that is not only safe from cigarette carcinogens but which is also safe from harmful pesticides and toxic insecticides!
We believe in the full disclosure of all the ingredients of each e-liquid manufacturer that we do business with. When you buy from us, you will find the ingredients of each e-liquid printed on its vial. And if you ever have any questions, feel free to contact us. We're always happy to chat with other vaping enthusiasts!